Top Sellers
The Trash Plate

$11

Bowl of sushi rice, with tomatoes , cucumbers ,sweet bell peppers, scallions , jalapeños ,fried garlic, onion crunches mixed in ponzu sauce. Chunks of beer battered shrimp, grilled flank steak and bacon, topped with ginger mayo, sriracha, stingray sauce, black sesame seeds.

El Chapo Roll

$13

Our Dominican roll ingredients, fused w/ our spicy tuna and habanero peppers. rolled into one full nori sheet, topped with our spicy house sauce, stingray sauce, ginger mayo, sriracha and scallions.

Dominican Roll

$9

Beer battered shrimp, ginger mayo, avokado, bacon, fried dominican cheese, topped with stingray sauce.

Tuna "Pica Pica" (Spicy Tuna) roll

$9

Raw tuna with chili oil, our in house secret blend of spices, fresh Thai basil, fresh cilantro, and ginger mayo.

Pica (Spicy Crab)

$8

Our crab stick , sriracha ,ginger mayo, fresh garlic and secret seasons . Rolled in onion crushes , fried garlic and black sesame seeds.

Kalifor-you roll

$7

Crab sticks, ginger mayo, cucumbers , avokado, black sesame seeds.
Sides
Tostones -freshly made daily

$3

This side comes with a ball of Spanish rice and a dipping sauce of spicy ginger garlic mayo.

Japanadas

$5

Our twist on the Empanadas. Beef seasoned with japanese and latino species, brined cabbage, bacon, peppers, panko coating deep fried to perfection.
Daily Specials
Chef's choice Roll

$11

You can trust sushi chef HotRod on a spicy, sweet, and delicious sushi roll on the spot.
Menu Subject To Change Based On Ingredient Availability At The Event
---
---
Looking to book our Food Truck at your next event?
Book Stingray Sushifusion for your next event.
Request Food Truck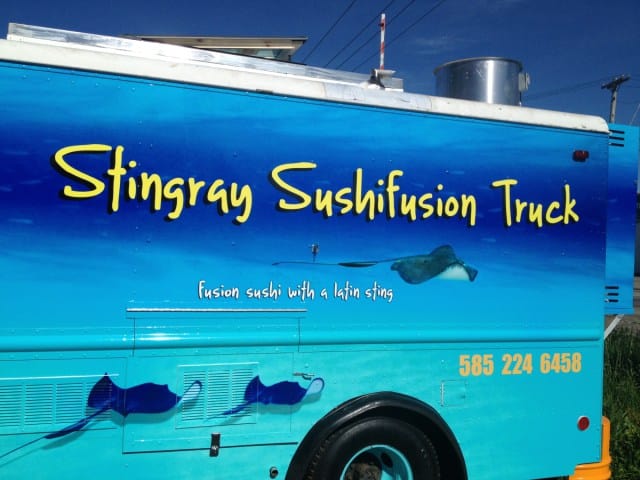 1921 South Avenue, Rochester, NY, USA
Gallery