Shaved Ice
Kiddie

$

Our smallest size still packs a lot of punch. With 8 ounces of fluffy snow, it's the perfect size for those who are looking for a little something to sample the Kona Ice Experience.

Klassic

$

This size would be a favorite of Goldilocks - it's just right! With 12 ounces of shaved ice, you have plenty of room to pile on an ample amount of the flavors you choose.

King

$

This size is fit for – you guessed it – a king. If you're a lover of all things shaved ice, this might just be the size for you. With 16 ounces of delicious shaved ice, you can't go wrong!

Kowabunga

$

For the shaved ice connoisseurs out there that really know their shaved ice stuff, this size is perfect. With 22 ounces of fluffy snow in a reusable cup, you'll be back for more – guaranteed!

Color Changing

$

This cup is pure magic! The "cooler" our product gets, the more colorful our cup becomes. Watch it change colors before your very eyes. With this size, you get 17 ounces of delicious shaved ice fun in a cup.

Kollectable

$

Escape to the tropics with this collector's item and the 22 ounces of delicious Kona Ice inside. This keeper of a cup is unique each season so be sure to collect them all.
---
---
Looking to book our Food Truck at your next event?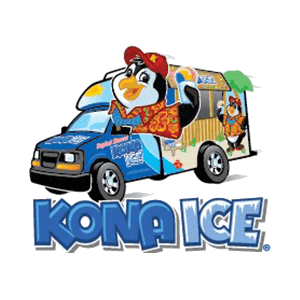 Planning an event?